Nicholas Recreation Center
Project Type:
Competition, Education and Training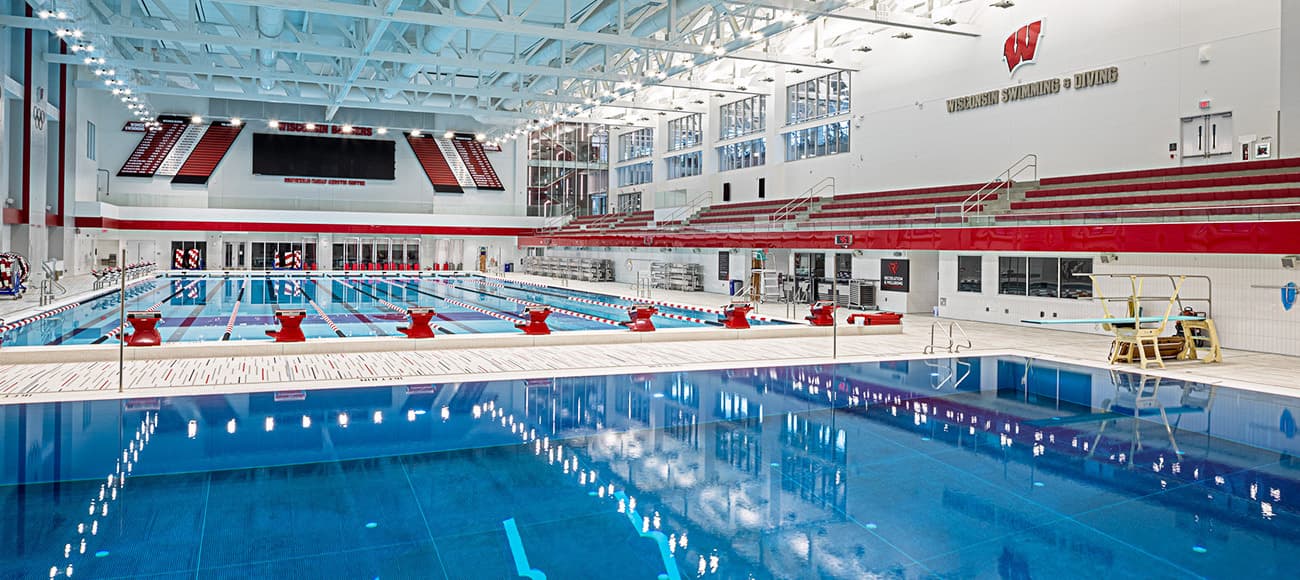 Since its construction in 1983, the Southeast Recreation Facility (SERF) has served the University of Wisconsin Madison's students and faculty and is one of the most visited campus building. Three decades later, the university had outgrown the SERF and began planning a new facility. Water Technology, Inc. (WTI) completed an aquatic evaluation in 2014 that was used as the basis of recommendation for the proposed replacement that was solicited in 2016. A generous $20 Million donation from renowned philanthropists Nancy and Ab Nicholas completed the fundraising initiative, and the recreation facility is now named The Nicholas Recreation Facility ("The Nick") in their honor. UW Madison hired WTI to provide aquatic design and engineering services alongside a local and national architecture team for the Soderholm Family Aquatics Center, which is housed within The Nick and home to the UW Madison Swimming and Diving Teams. When finished, the $96 Million, 170,000 SF Nicholas Recreation Facility will be almost 50% larger than the Southeast Recreation Facility.
WTI designed the Soderholm Family Aquatic Center to be a world-class competition facility ideal for hosting the Big Ten Conference and other major event swim meets. Upon entering the natatorium, athletes will appreciate the Olympic sized 12,887 SF, 50-meter competition pool. The pool features a moveable bulkhead that divides the space into multiple configurations, including a 50-meter-long course, two 25-meter short courses, two 25-yard short courses, or 30 short course pool lanes for open lap swimming.
Beyond the competition pool is the equally impressive 3,904 SF diving pool. Designed to accommodate all of the NCAA diving events, the 25-yard diving well features a 10-meter diving platform, a 7.5-meter platform, a 5-meter platform, a 3-meter platform, two three meter and three 1-meter springboards. Near the diving pool is a 161 SF therapeutic swim-in-place pool for athletes and those needing hydrotherapy. The Soderholm Family Aquatic Center can comfortably seat up to 1,200 spectators in the state-of-the-art aquatic center. The highly anticipated grand opening is scheduled to take place in the Fall of 2020.
Project Highlights
12,887 SF 50-Meter Competition Pool
3,904 SF Diving Pool: 3-, 5-, 7.5-, and 10-meter diving platforms, three 1-meter and two 3-meter springboards
161 SF Swim-in-Place Pool
Awards
2021 Athletic Business - Aquatic Design Portfolio
2022 Athletic Business - Architectural Showcase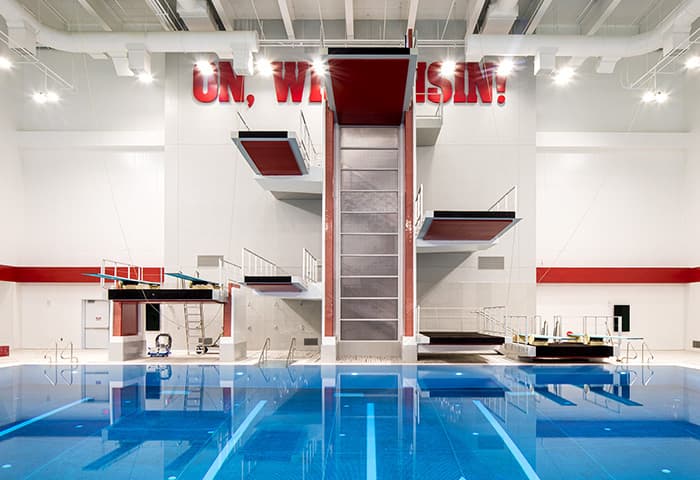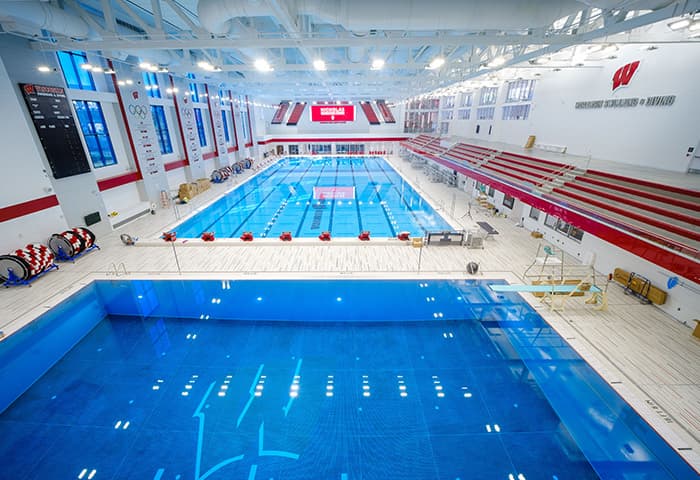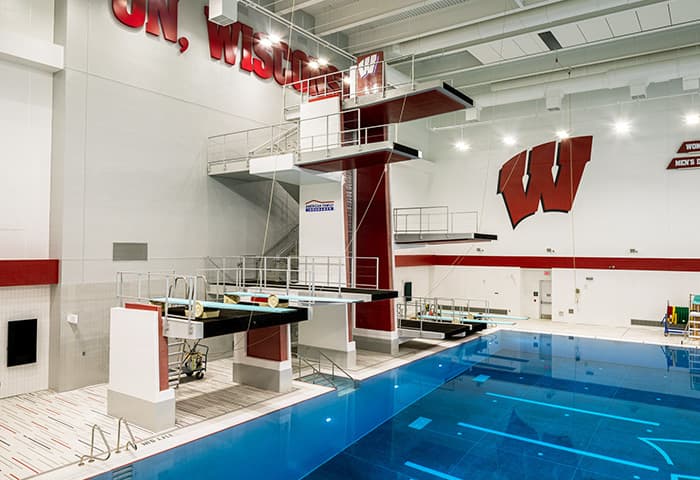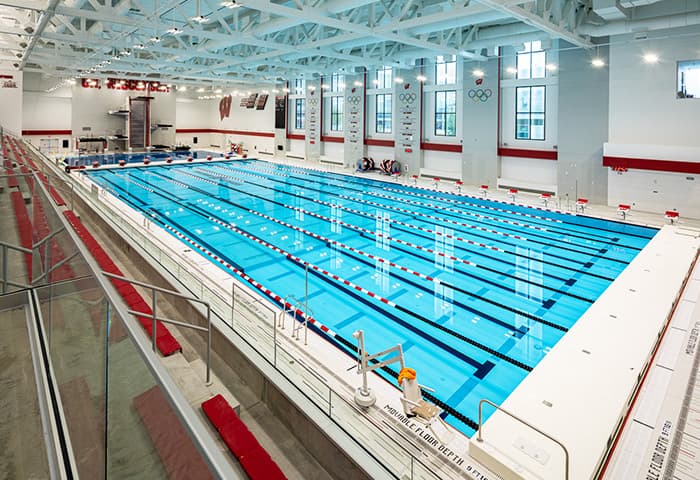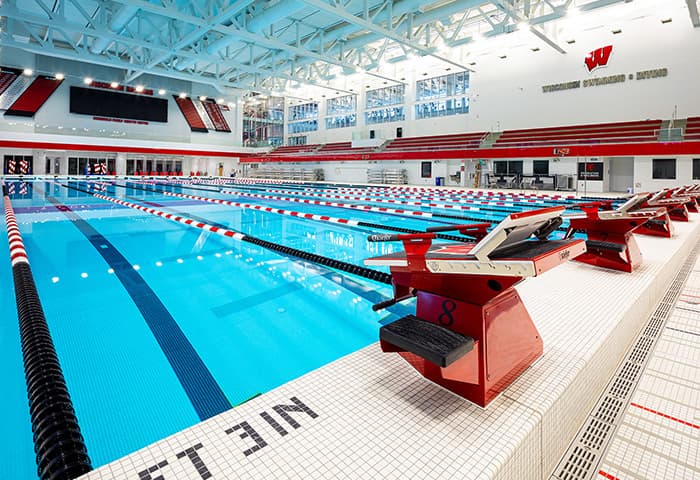 You may also be interested in learning about these innovative projects
Are you looking for an aquatic expert? We can help.
Get in touch