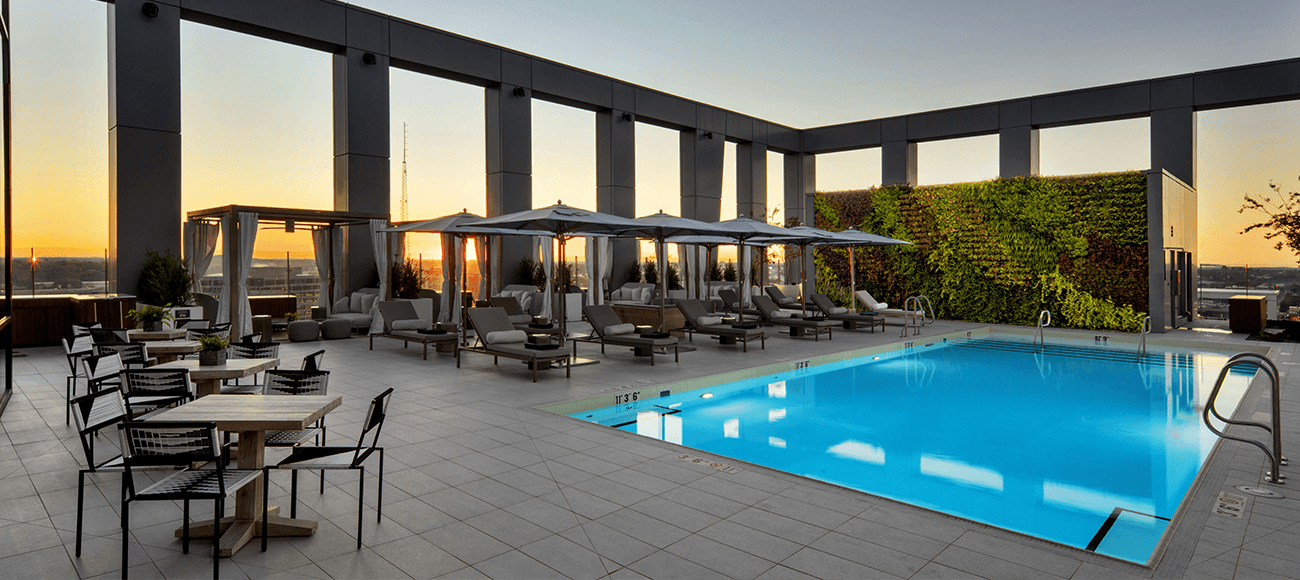 In the heart of "music city", Nashville's The Joseph, a Luxury Collection Hotel provides a unique downtown experience with their contemporary-inspired hotel. Aside from the stunning rooftop pool, The Joseph highlights everything a visitor desires from their curated art collection featuring local and global artists and located just two miles from Broadway. Water Technology, Inc. (WTI) worked alongside the architect and Myrtha Pools to complete this modern and pristine rooftop pool that complements the atmosphere of the pool terrace amenity deck.
This 876 SF Leisure Pool provides guests with a calm oasis from the buzzing Music City. Guests can immerse themselves in some of the best views of the city which can be seen from the 21st-floor rooftop pool terrace. The skyline lounge area also features a rooftop offering handcrafted cocktails to perfectly complete the experience. WTI was pleased to provide insight into the sometimes challenging environment of rooftop aquatic design and construction. With the specification and installation of Myrtha, this pool was designed, engineered and constructed to serve guests for decades to come, all while providing minimal maintenance for the hotel operators.
"The Joseph, a Luxury Collection Hotel, Nashville is an embodiment of the city at its most refined." ---Marriott Hotels
You may also be interested in learning about these innovative projects
Are you looking for an aquatic expert? We can help.
Get in touch