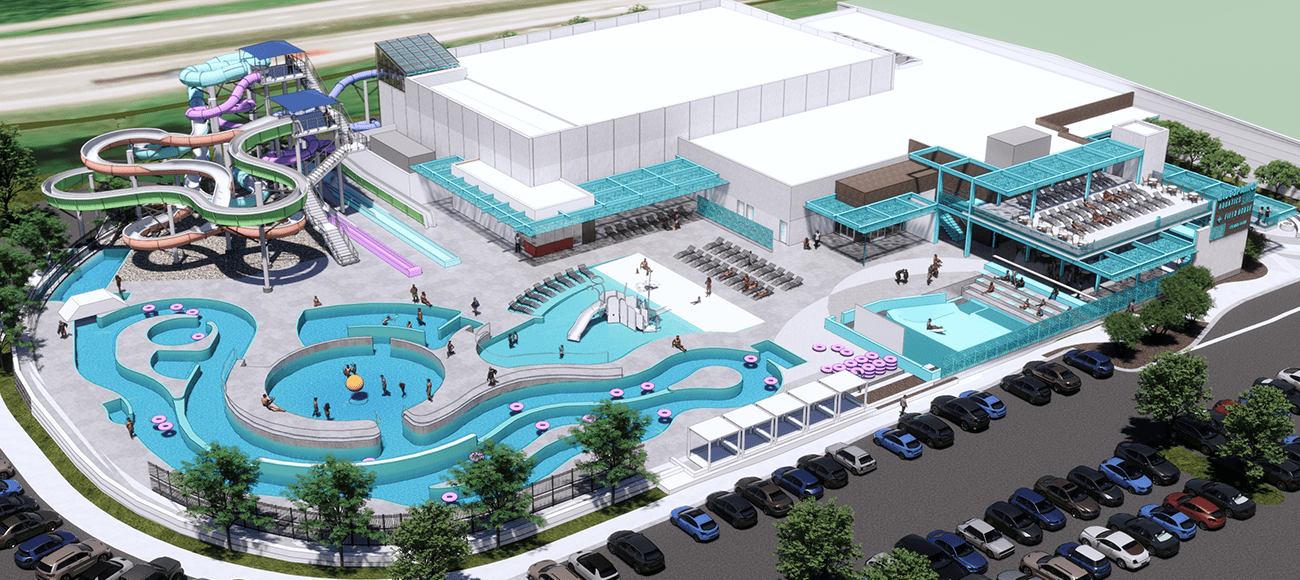 The innovative indoor and outdoor aquatic center is an expansion of the Blue Springs Field House. In 2013, Water Technology, Inc. (WTII) surveyed a small, diverse group of community members to identify the most important aquatic elements. WTI applied the most preferred elements into an aquatic facility that offers a variety of programming options for all generations. In 2019 and 2020, this effort was revisited with new amenities being added to ensure when the facility is constructed, it provides entertainment options that will bring people from all over the greater Kansas City market. In April 2021, citizens approved of a park sales tax to make the new regional destination possible.

The indoor aquatic amenities include a lifestyle wellness pool, interactive splash pad, a multi-purpose lap pool, and a 25' tall run-out slide. The wellness pool is the epitome of flexible and functional. The 115' long current channel features underwater bench seating in a comfortable alcove for relaxation and socialization. Further down the river, swimmers will discover a Vortex for their resistance walking and enjoyment. In the multipurpose area adjacent to the river swimmers can relax and enjoy the back massagers along the pool edge, with two different intensities and spray patterns.

The indoor interactive 1150 DG spray pad features the latest spray innovations on the market incorporated into a freeform design with a slip-resistant safety flooring application. It is segmented into zones that are hyper-focused on each user's preferences and abilities. The multi-purpose lap pool is perfect for lap swimming and training and has unique and popular attractions such as a NinjaCross and a rock structure climbing wall -- perfect for wellness and recreational swim-seekers.

The outdoor aquatic center features an array of remarkable innovations. The lazy river showcases numerous immersive features that include elevated water curtains, geysers, overhead waterfalls, continuous sprays, and dumping buckets. Neighboring the lazy river, Blue Springs features a unique, 1600 SF wave ball-powered outdoor wave pool. This feature offers swimmers another opportunity for excitement and thrills in the water. The wave ball creates multidirectional waves, providing the entire pool ample opportunity to splash into fun! In addition, Blue Surf Bay is home to the exciting Double Surf-Air inflatable surf simulator and an iconic waterslide complex that packs in the fun with four waterslides that all provide their own engaging experiences for riders. Most notably, the SlipstreamTM Stand-Up Slide will be the first and longest of its kind (350' long!) in Missouri.

The aquatic amenities at Blue Surf Bay are true showstoppers, unlike any others in the Midwest. The iconic new facility is anticipated to break ground in 2022 and open to the public by Spring 2024.
You may also be interested in learning about these innovative projects
Are you looking for an aquatic expert? We can help.
Get in touch